Jim Wilson
Chief Executive Officer
Mr. Wilson's initial entrepreneurial initiative began in June 2003 with the formation of Terminal Velocity Processing Services "TVPS" (www.tvpscorp.com). Subsequently, he also established two additional payments brands that include Earth Payment Solutions "EPS" established in April 2010; Earth Marketing & Professional Sales & Services "EMPSS" established in June 2017. Collectively, a singular mission emerged to champion the merchant's demands and bring solutions to their various business challenges. Each brand was created to specifically provide those solutions within multiple regions, adhering to each regions' specific needs, rules and operating requirements.
Under Mr. Wilson's direction TVPS, EPS, and EMPSS maintain their position as industry leaders under three guiding principles, all instituted to produce merchant value beyond the traditional payment services business model. They include (1) merchant marketing to drive new customers and revenue, (2) interchange optimization (passing complete transactional data) to qualify transactions at the lowest possible rate and mitigate preventable fee increases, and (3) in-depth expertise provided under a consultative approach to service dynamic and fast growth businesses, ensuring that they remain compliant, efficient, educated, and updated on industry trends.
Mr. Wilson assembled an executive management team that brings decades of experience and a proven track record to provide solutions for merchants in today's global economy that is more diverse, fluid, and rapidly changes. Distinctive in the marketplace, the brands that Mr. Wilson leads deliver core competencies and true value beyond the commodity service bureau and a one-size-fits-all model, offering innovative solutions customized to the specific needs of each merchant client and ground-breaking products and services that help companies grow.
As the payments industry and traditional card brand acceptance matured in the USA, Mr. Wilson established a direct agreement with UnionPay in 2011 to (1) promote outbound travel from within China and direct Chinese tourists to our merchant clientele positioned within favored US destination cities and (2) ensure that our merchant clients are – China Ready and equipped to accept the China UnionPay card brand. Subsequently in 2017, Mr. Wilson's China initiatives were expanded to include WechatPay and AliPay acceptance!
Nevada Gaming License Background & Significance
In 2008, Jim Wilson secured payment processing agreements with notable Hotel Gaming & Casino properties including, but not limited to, the Las Vegas Hilton, Bally's, Atlantic City Hilton, Resorts International and Tunica (see Earth Payment Solutions Gaming & Leisure Magazine Featured Article Exhibit below). On December 22, 2011, The Nevada Gaming Commission approved the nation's first regulations for Internet Poker Play, opening the door to the licensing of companies to offer online play within the state. Companies already licensed by the state applauded the unanimous vote allowing them to expand their current Gaming License to include Internet Poker Play. Companies not having a Gaming License (such as Earth Payment Solutions) and wanting to engage in Internet Poker Play could now apply providing they undergo the same rigorous investigative scrutiny required by Nevada State Gaming Regulations. With this new regulation in place, Mr. Wilson wanted to further capitalize on this business opportunity. Having Hotel Gaming & Casino payment processing accounts already in place, Mr. Wilson pursued the most difficult and highly intrusive task of applying for a Nevada Gaming License in order to tailor his future vision of utilizing EB-5 monies to acquire Hotel Gaming & Casino properties within Las Vegas, Reno, Laughlin, Nevada State Line, et cetera. After applying and undergoing a highly exhaustive investigation, Mr. Wilson was awarded a Nevada State Gaming License, effective April 14, 2014.
Nevada State Gaming License Process
Receiving an approval for a Nevada Gaming License is among the most serious formal processes in the United States. It is mandated by federal and state laws, rules, regulations, policies and procedures in order to ensure that no factors exist for potential corruption that can be inherent within the gambling industry.
The Nevada Gaming Commission requires any Gaming License Applicant to undergo an extremely vigorous and unrestricted background investigation for consideration of approval ensuring any Applicant meets all financial criteria and has impeccable character traits. Further, Applicants must demonstrate a lifetime history of honesty, integrity and a proven business track record to warrant such an approval. Applicants cannot have any legal blemishes or potential ties to organized crime that may damage the integrity of maintaining a Nevada State Gaming License.
To retain this highly coveted License, Mr. Wilson must continuously undergo a yearly background check and investigation before a renewal is again approved. This ongoing process of certification and approval for the Nevada Gaming License that is awarded to Mr. Wilson on a yearly basis can serve to assure that any merchant clientele can be confident that Mr. Wilson meets all standards of exemplary behavior in order to maintain his License status.
G&L NEW&COOL Article/Case Study – Gaming & Leisure Magazine Spring 2012 About Earth Payment Solutions, LLC & the Las Vegas Hotel & Casino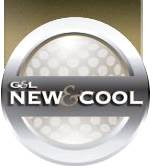 The economy is currently in the midst of a recession. By the very nature of the gaming & hospitality industry, it has been hard hit. These conditions are compelling industry leaders to search for creative solutions to help reduce costs while not sacrificing the services that have become the hallmarks of the industry. Being forced to do more with less is causing a shift away from business-as-usual approaches to the creation of new alliance partners offering better, more innovative, solutions to meet changing needs. The credit card processing industry is a good example. Payment processors have historically been viewed as an unfortunate cost of doing business routinely cutting into about 2.25% to 3.50% of a property's bottom line (i.e., the actual effective rate of processing payments). A refocus on the alliance partner that is chosen as the payment processor is paramount to the profit margin that truly affects the bottom line. Accordingly, the key industry question in reference to payments should be, "Can a payment provider reduce my actual effective rate?" The premise of this question is vastly different than the sales pitch usually delivered by agents in the payments industry promising a reduction in the authorization and settlement costs. The perceived savings pertaining to authorization and settlement can easily be recaptured by the payments provider, and those savings do not really impact the actual effective rate. The next question should be, "Are there any organizations in the payments industry that have the right business model, executives, know-how to truly address my organization's needs?" Earth Payment Solutions emerged as one of the frontrunners in the payments industry. EARTH not only takes the time to address the specific needs of its clientele in the gaming & hospitality, but also takes the time and painstaking efforts to learn and analyze the particulars of each client's niche. Each client's solution is dictated by a comprehensive analysis of its processing activities and business model resulting in customized solutions. Earth's analytical approach helps target and weed out inefficiencies leading to actual savings. A detailed process of flushing out interchange profit leaks caused by operational and technical errors is implemented. If addressed, such profit leaks can easily be fixed resulting in substantial savings of up to 0.50% per transaction. On a $600 checkout that amount can be $3.00 per transaction. Moreover, EARTH offers its clientele flexible reporting and statements, data solutions, interchange management, system reliability and data accuracy.
An actual example will help shed light on the above: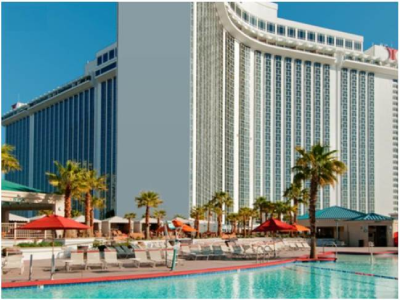 Las Vegas Hotel & Casino Pool
The Las Vegas Hilton & Casino engaged EARTH to undertake a comprehensive analysis of the entire Las Vegas Hotel & Casino payment systems structure. Through a collaborative effort by EARTH and the Las Vegas Hotel & Casino, EARTH developed a complete understanding of the causes of the card processing fees and processing profit leaks faced by the Las Vegas Hotel & Casino. The Las Vegas Hotel & Casino implemented a series of operational and data enhancements that optimized the functionality of their systems. Additionally, in working with EARTH's staff to create operational manuals to assist in training and evaluating its staff, the Hilton addressed and rectified a problem with their "in-room" checkout system that was causing downgrades on a consistent basis resulting in greatly increased transaction costs. By implementing EARTH's recommendations, the Las Vegas Hotel & Casino made the requisite operational changes that have resulted in substantial savings. Moreover, EARTH maintained attentiveness in the months after the initial enhancements to ensure that changes were properly implemented and savings continued to be realized.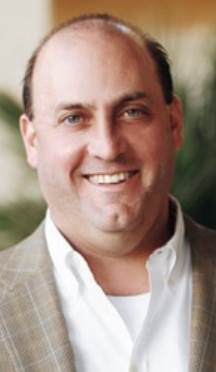 Marc Guarino
"Once Earth Payment Solutions provided us a comprehensive understanding of how the process and their platform works, it was clear we were paying far to much in processing fees to service our guests" said Marc Guarino, VP of Information Technology for the Las Vegas Hotel & Casino. "The results speak for themselves. We have recognized a significant decrease in costs from our card processing fees, and those savings go straight to the bottom line" said Guarino. "The decision to analyze our processing costs in detail," said Don Hinkle, Senior VP Finance of the Las Vegas Hotel & Casino, "inspired us to demand transparency from all our outsourcing partners to see if similar opportunities exist. EARTH's innovative combination of payments and systems expertise with a rock solid platform allowed us to make substantive changes."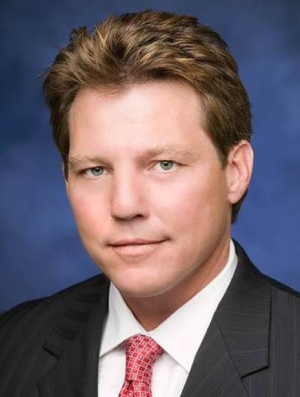 Jim Wilson
"Everybody wins when expertise is applied to a problem," said Jim Wilson, CEO of EARTH. "We find that our clients want to focus on the success of their core business and not worry about the data required in a single field of a payment transaction. Were here to squeeze inefficiencies out of our clientele's operations and deliver optimized processing solutions while maintaining the highest standards of quality customer care." The ability to focus on corporate payment strategies beyond simply reacting to crisis, coupled with the demands for higher standards of disclosure, functionality and accountability, has turned out to be much more important than "profit- carving" for smart gaming and lodging companies. With payments being one of the largest costs on the ledger today, control cannot be left to a commoditized processor with little interest in the hotel, lodging, and gaming sectors.
TVP Racing Sponsorships Background
Approximately in 2007 (through 2009), Terminal Velocity became involved in various racing sponsorships to bolster its brand and target various Merchant types to promote its credit card acceptance services. Listed below are several 2-minute video clips that can be viewed at www.youtube.com. Just copy and paste the gold verbiage below into the search bar of YouTube or type it in.
Pacific F2000 Race 10/18/2008 (Note: TVP sponsored the entire Pacific F2000 Racing Series)
Terminal Velocity Processing invades BAJA @ HPR (Note: TVP sponsored the Baja 1000 and this event included the major announcement)
Terminal Velocity Invades Baja 1000 (Note: This was a press release clip after the HPR announcement)
Dave Despain on Speed with TVP (Note: After the HPR sponsorship announcement, TVP sponsored a 3-day Baja excursion. Dave Despain [Speed Channel Host] was in attendance. He made an announcement on the Speed Channel afterwards)
TVP Sponsorship of BAJA 1000 Race Pictures
TVP Sponsorship of Pacific F2000 Race Series Pictures
TVP Sponsorship of Pro Circuit Supercross Race Series Pictures
Terminal Velocity Radio-Controlled 1/37 Scale NASA Space Shuttle Sponsorship Program
In 2007, Terminal Velocity Processing sponsored and developed 1/37 Scale Radio-Controlled NASA Space Shuttle. Terminal Velocity currently owns/retains the reproduction molds to manufacture and replicate an unlimited number of units. Terminal Velocity utilizes the initiative to garner marquee merchant clientele in the hobbies industry through promotional launching Events.
Dimensions – stands 6ft 10inches tall (from ground to nose)
Launch Sequence – the 1/37 Scale Radio-Controlled NASA Space Shuttle functions as follows:
Fires off the launch pad via five synchronized large solid rocket propellant motors
Accelerates to a top speed of about 350 MPH
Reaches a designated altitude of about 3000 feet
Solid Rocket Boosters ("SRB") are disengaged at about 2000 feet and parachutes are deployed
Extra Tank ("ET") is disengaged from the Orbiter at apogee and a parachute is deployed
Orbiter is radio controlled down to a target landing strip